FINAL DAY - THANK YOU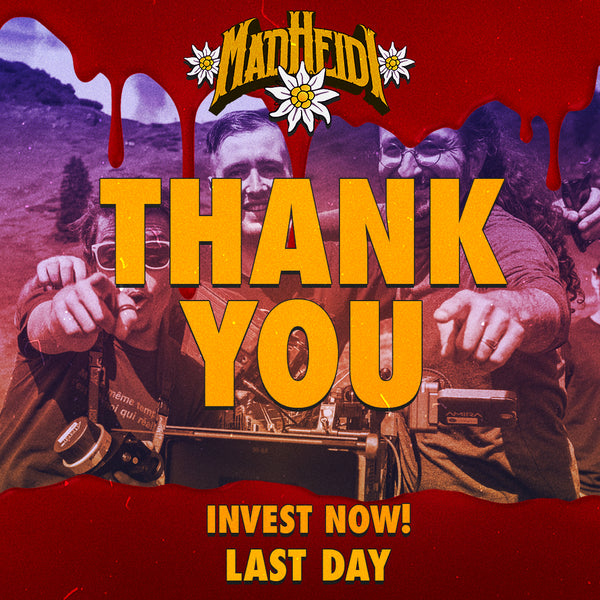 Dear Mad Heidi fans, dear Mad Investors, dear crowdfunding supporters,
I want to say THANK YOU! Thanks to your tireless support over the past weeks, months, and years, we are making history with Mad Heidi!
Through Mad Invest and our online shop on 
madheidi.com
, we have raised well over half a million Swiss francs to date. No other Swiss film project has ever raised that much with its fans!
This means, even though it's clear that we won't reach our 1 million minimum goal until the original deadline – tonight at midnight – we're at a point of no return. So many people have supported the project, so many fans are waiting to finally see the movie – burying the project is not an option for any of us. And even though we didn't reach the goal so far, I'm proud of what we achieved together with all of you. To see the support of so many people who believe in the project gives my team the energy to work hard for our vision.
Therefore, a couple of days ago we have announced that we will extend the 
Mad Invest
 program until April 30, as stated in the 
Proposal Paper PDF
. We are confident that we will be able to shoot the film in the summer/autumn of 2021. But if you invest today before the official deadline at midnight tonight, you will get exclusive early-bird privileges. Check them out 
here
.
I know we have flooded you with newsletters and social media posts at some points during the past year. But please understand that this is necessary to build the community that will help us finance the project and spread the film around the world once it is released. I'm thankful for your patience and understanding. The more we can get the word out there with your help, the sooner we can stop asking for your money and finally shoot the damn movie. ;) 
The past three months of the 
Mad Invest
 campaign, as well as months of preparation before, have been quite exhausting for our very small team. So we will take a couple of days off to recharge our batteries and get back to you with new announcements in early January. 
Let's make the f***ing movie! In 2021!
Johannes HartmannDirector of Mad Heidi