Heidi's Absinthe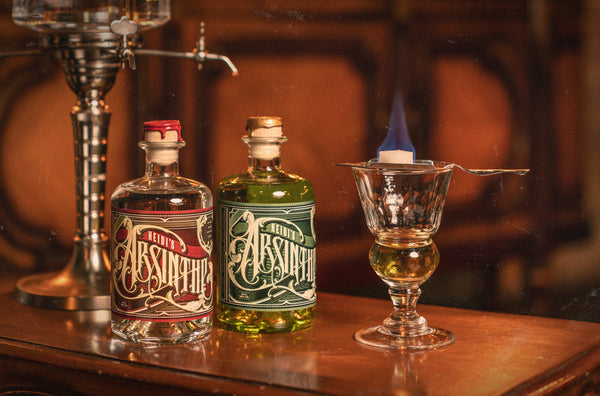 We are proud to announce an epic collaboration with two partners from our home town, Berne:
Together with MATTE BRENNEREI and SCHWARZMALER, we have created Heidi's Absinthe!
With its strong wormwood note and persistent bitterness, Heidi's Absinthe is strong in taste and yet remarkably soft and balanced. Made by hand with grain distillate, wormwood from Val de Travers, anise, fennel and hyssop.
In Switzerland, the sale and production of absinthe was prohibited from 1910 to March 1, 2005. 
Absinthe Blanche is an uncolored (clear) traditional Swiss Absinthe. During the era of Absinthe prohibition in Switzerland (1910-2005), bootleg Absinthe was often bottled colourless so as to be visually indistinct from other spirits.
Absinthe Verte begins as a blanche. The blanche is altered by a secondary maceration stage, in which a separate mixture of herbs is steeped into the clear distillate. This confers a green color and an intense flavour.
Heidi's Absinthe Combo
2x 50 cl / 52% Vol.
Heidi's Absinthe Blanche
50 cl / 52% Vol.
Heidi's Absinthe Verte
50 cl / 52% Vol.
*At the moment, we only ship to addresses in Switzerland. We're currently looking at options for international shipping. Minimum age: 18 years (copy of passport or ID card required).